Common Birds around Asheville, Hendersonville North Carolina
We are lucky to live in a very bird-rich area of the country. In the spring it's possible to head out and see about 100 species of birds in one day. I know that's the exception rather than the norm, but a list of 50-70 species is not uncommon at all.
Stop by the store to check out our selection of binoculars and birding field guides. We carry all of the most popular guides including Sibley, Peterson. Kaufmann and National Geographic. We also stock both the NC Mountains Birding Trail Guide and Birding North Carolina.

BIRDS SEEN IN OUR AREA THROUGHOUT THE YEAR

Great Blue Heron
Canada Goose
Wood Duck
Mallard
Turkey Vulture
Cooper's Hawk
Red-shouldered Hawk
Red-tailed Hawk
Wild Turkey
Killdeer
Rock Dove
Mourning Dove
Eastern Screech-Owl
Great Horned Owl
Red-bellied Woodpecker
Downy Woodpecker
Hairy Woodpecker
Northern Flicker
Pileated Woodpecker
Eastern Phoebe
Blue Jay
American Crow
Carolina Chickadee
Tufted Titmouse
White-breasted Nuthatch
Carolina Wren
Northern Mockingbird
Eastern Bluebird
American Robin
Cedar Waxwing
European Starling
Northern Cardinal
Eastern Towhee
Song Sparrow
Common Grackle
House Finch
American Goldfinch
House Sparrow


BIRDS SEEN ONLY DURING THE SUMMER: APRIL - SEPTEMBER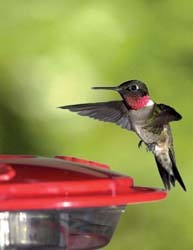 Broad-winged Hawk
Chimney Swift
Ruby-throated Hummingbird
Eastern Wood-Pewee
Great Crested Flycatcher
Eastern Kingbird
Northern Rough-winged Swallow
Barn Swallow
Tree Swallow
House Wren
Blue-gray Gnatcatcher
Gray Catbird
Brown Thrasher
Wood Thrush
Red-eyed Vireo
Yellow Warbler
Black-throated Green Warbler
Black-and-white Warbler
American Redstart
Common Yellowthroat
Hooded Warbler
Scarlet Tanager
Rose-breasted Grosbeak
Indigo Bunting
Chipping Sparrow
Red-winged Blackbird
Brown-headed Cowbird
Orchard Oriole
Baltimore Oriole

BIRDS SEEN ONLY DURING THE WINTER: OCTOBER - MARCH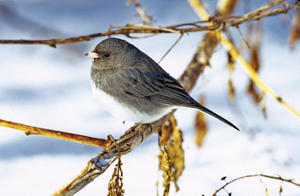 Yellow-bellied Sapsucker
Golden-crowned Kinglet
Ruby-crowned Kinglet
Yellow-rumped Warbler
White-throated Sparrow
Dark-eyed Junco
Purple Finch
Pine Siskin
Evening Grosbeak

Additional Species:

Of course there are many other species that occur in Western North Carolina. A full list of these can be found in any Field Guide that covers the Eastern United States.